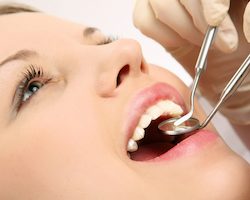 You and your family are setting for your annual Christmas picture. The camera is ready. You have your outfits on, and everyone is where you want them. Your spouse says, "Smile!"
What do you do?
Do you smile with your teeth showing … or do you keep your lips firmly pressed together because you aren't happy with the appearance of your teeth?
Healthy smiles don't just happen. You need a simple but consistent routine to keep your teeth strong and attractive. That routine should include dental checkups every six months.
And we are happy to help at Junction Creek Family Dentistry.
If you haven't scheduled your next oral care appointment yet, call 970-507-8391 today to plan a visit to our Durango, CO dental office. We hope to see you and your smile multiple times next year and for many years to come.
Make Prevention Your Priority
The American Dental Association recommends that everyone does at least three things to keep their mouths healthy:
Brush your teeth
Floss your teeth
Visit the dentist regularly
To a little more specific, the ADA suggests brushing twice daily for two minutes at a time. You should use a soft-bristled toothbrush and a pea-sized drop of toothpaste. Make sure you clean your teeth on all sides.
As effective as brushing is, it isn't a great way to clean between your teeth or below your gumline. This is why flossing daily is so important. If you can't or won't use dental floss, consider flossers or water flossers as an alternative option.
Professional dental cleanings and exams are invaluable for your long-term health. We're all human and none of us brush and floss perfectly every day. That can allow plaque and tartar to build. By making recare appointments every six months, we can remove plaque and tartar. This also gives us an opportunity to catch tooth decay and gum infections. Early detection means better, more effective, and less invasive treatments for you.
Protect Your Smile
As much as we would love to prevent dental problems, we know that more than 90 percent of people will have at least one cavity during their lives. ADA surveys also have revealed that less than half of people floss daily and 1 in 5 people reports that they never floss.
All of this is to emphasize how important routine dental visits can be to your long-term oral health. We offer a variety of restorative services, but our preference is to keep your smile healthy and intact for as long as possible.
We can help. We want to help. By visiting us, we can provide the benefits of preventive care and our early interventions if and when problems arise.
Plan a Visit With Us
Everyone at Junction Creek Family Dentistry wants you and your loved ones to be happy and healthy for decades to come. The best way we can help is by providing ongoing care to maintain your smile. It's also why we hope to see you a few times every year for professional dental cleanings and exams.
To request an appointment, fill out our online form or call 970-507-8391 today!