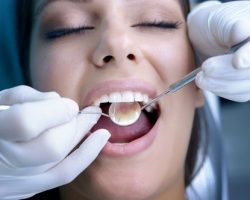 Safe dental appointments have always been important – but especially now, with concerns around COVID-19. We understand that coming for an exam or other service at our office may make you a little nervous – but it shouldn't, given the many precautions we are taking to ensure your safety.
For example, you'll likely notice our reception area looks a bit different. There will be fewer people in it, as we are managing our appointments to facilitate social distancing. To help with this, we also ask anyone who accompanies you to an appointment to wait outside during your visit. We've also removed difficult-to-clean items such as magazines.
You'll also notice hand sanitizer and face coverings. If you don't have a mask of your own, we'll provide you with one. When you arrive we will also:
Take your temperature
Ask a few screening questions
Have you rinse your mouth with .12% chlorhexidine gluconate (PERIDEX)
If you have any questions about our COVID-19 precautions or need to make an appointment, call us today at 970-507-8391. You can also submit a request via our online form.